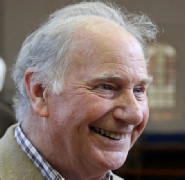 Visit my Facebook page
Welcome to the official website of novelist
Tony Whelpton
Tony Whelpton is an English novelist, and not one of the youngest you'll find around, although he's both physically and mentally a lot younger than his Birth Certificate shows, and he lives in Cheltenham, in the Cotswolds, a beautiful area of the South-West of England.

In an earlier existence which, Tony says, seems to be a lifetime ago, he taught French in a university, and for many years he wrote books designed to help people who were trying to learn French - many published through a company called TD Publications which he founded himself. He closed that business when he was 75, thinking that it was time to retire and lead a quiet life.
But then he started writing fiction and suddenly realised that this is what he should have started doing long ago, and here he is, nine years later, with six successful novels to his name, and, what's more, he was invited to talk about one of them at the prestigious Cheltenham Literature Festival in October 2017!

The first, Before the Swallow Dares, was published in 2012, the second, The Heat of the Kitchen, came out in 2013, then Billy's War in 2014 and its sequel There's No Pride In Prejudice on 1 June 2016. A Change of Mind followed exactly a year later, and now his latest, High Time, has just been added to the list. If you didn't believe what was said above about being younger than his years, six novels in six years ought to convince you!
Tony published his first novel in 2012, at the age of 79. Since then he has written five more, with the latest being published in July 2018.
Called High Time, it sees Tony revisiting his home town of Nottingham, and, appropriately, the cover features one of the city's most prominent landmarks, the dome of the Council House.

Unlike A Change of Mind, however, it will not have its own spot in the 2018 Cheltenham Literature Festival, although Tony will be there, and hopes to be doing a short reading from High Time in an event called You Heard It Here First, in which Tony has taken part for the last six or seven years. In 2017, you may remember, Tony was included in the 'Locally Sourced' section, and there are so many authors in Cheltenham and the surrounding area that he could not reasonably expect to be invited in two consecutive years!
Tony's latest novel, High Time!
Eight year old Ruth Reid has a major preoccupation in her life, summed up by the question she keeps asking her mother, and which her mother never answers: 'Why don't I have a grandma or a grandad? All my friends at school do!'
Why doesn't Ruth's mother answer? Partly because she thinks Ruth is too young to be told, partly because she is afraid that the answer will reopen old wounds in her heart.
Ruth's mother, Susan, is a white working-class girl from Nottingham, who ran away to London with her boyfriend Courtney, a black immigrant from Jamaica, after constant rows with her parents, and after Courtney was assaulted in what the national newspapers termed the 'Nottingham Race Riots' in 1958.
This is a theme close to Tony's heart, as you will be aware if you have read There's No Pride in Prejudice. During the 1960s and 1970s, while he was lecturing at the Nottingham College of Education (later Nottingham Trent University), he counted many immigrants from all corners of the world among his friends, and also sat on the City of Nottingham Community Relations Council..
Tony portrays realistically this story from his own home town, and describes not only the highs and lows of the story of Ruth and Courtney's parents, but also those experienced by her grandparents who don't even know she exists. There is heartache a-plenty on all sides, but a great deal of happiness too, as readers of octogenarian novelist Tony Whelpton have come to expect.
Tony's many admirers will be anticipating his latest novel with great enthusiasm. If you haven't yet read any of his books, it is undoubtedly High Time you joined them!
Contact Tony directly by email!
tony[@]literarylounge.co.uk
NB. To be able to contact Tony by using this email address, you need to remove the square brackets first, or it won't work!
The Times and Sunday Times Cheltenham Literature Festival 2017
Click here to see a feature from the Gloucestershire Echo,
12th September 2017, headed 'Give this man a medal…'!